Obituary: Howard E. Peak
Howard E. Peak, 87, passed away peacefully on February 20, 2018, at his home surrounded by his family.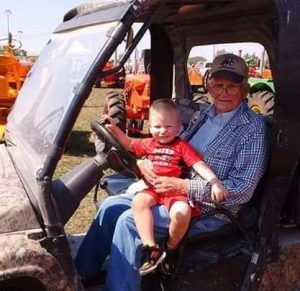 He was born December 18, 1930, in Girard to David Sr. and Esther Loraine (Titmus) Peak.
Howard joined the US Air Force on April 25, 1952. He attended airman basic training and within a year was an aircraft and engine mechanic.
He was stationed in Africa for a short time as well as Lake Charles, Louisiana.
He was honorably discharged while stationed in Wichita Falls, Texas on January 21, 1957.
Howard enjoyed serving his country and received the National Defense Medal as well as the Good Conduct Medal. He enjoyed farming, raising cattle, and providing for his family.
On November 16, 1973 he married the love of his life, Sharon Kay Wagner, who survives of the home. Survivors include his best friend and buddy: his son David and David's wife Rosalie of Girard; as well as Papa's sidekick, his grandson, Levi Peak; one sister, Maryann Heidrick, and nieces and nephews.
He was preceded in death by both his parents and one brother, David Peak Jr.
Funeral Mass will be at 12:00 noon Friday, February 23, 2018, at St. Michael Catholic Church in Girard with Fr. Floyd McKinney as celebrant. Burial will be in the National Cemetery at Fort Scott, Kansas.
The Rosary will be at 6:30 p.m. Thursday, at the Smith-Carson-Wall Funeral Home in Girard where the family will receive friends until 8:00 p.m. Friends may call after 2:00 p.m., Thursday February 22, 2018.
Memorials are suggested to the Levi Peak Education Fund or Harry Hynes Hospice and these may be left at the church or the Smith-Carson-Wall Funeral Home, 518 W St. John, Box 258, Girard, 66743.
The family would like to thank all the care givers and agencies at provided for Howard's care.
Condolences may be sent to http://www.wallfuneralservices.com/