Obituary: Cooper Hayes Klepac
Cooper Hayes Klepac, 14 mo. passed away suddenly Sunday, February 25, 2018 in Girard, KS.
Cooper was full of life and always had a smile on his tiny face. He was full of energy always ready to cuddle and had the best sense of humor.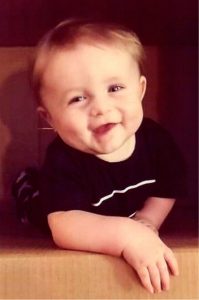 He was born in Pittsburg, Ks, December 2, 2016 and resided in his home with his family in Nevada, Mo. Cooper will be lovingly remembered by his parents, Kyle and Amber Klepac, his siblings, Chloe and Nathan, paternal grandparents, Brian and Sher'ee Klepac, and maternal grandparents Jeff and Peggy Walker. Cooper will also be forever remembered by his Uncles, Aunts, cousins, great grandparents, great-great grandparents and many family friends.
A Celebration of Life will be taking place at a later date. In lieu of flowers, the family asks that you consider donations to Cooper's burial fund at www.youcaring.com/kyleandamberklepac-1112752 
We will always carry your memory in our hearts.
Arrangements are under the direction of Bath-Naylor Funeral Home of Pittsburg, KS.