Obituary: Aaron Dean Callaway
    Aaron Dean Callaway of Girard passed away unexpectedly on Friday, April 20
th
, 2018. Aaron was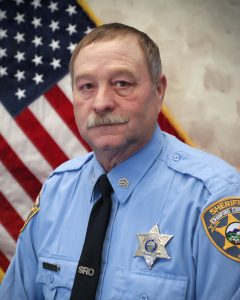 born 

February 23
rd
, 1958 in Beaver, OK to Paul Dean and Ladora Green Callaway. He graduated from Shattuck High School in 1976 and moved to Colby, Kansas to attend Colby Community College. He and Jana Slapar of Eudora, KS were married on 

August 5
th 
1978 at Beulah Community Church in Beulah, KS. Upon moving to Girard, Aaron was employed by S&S Packing Company as well as the Girard CO-OP Service Station. In 1991, Aaron began employment with the Crawford County Sheriff's Office as a correctional officer. He was promoted to Deputy Sheriff in 1994 after Academy completion, and later to Deputy Sergeant. He served several years as a D.A.R.E Instructor, and an executive board member of the Kansas Juvenile Officers Association, including one year as president, and the National Association of School Resource Officers. Aaron was the first School Resource Officer in Crawford County, where he worked with the Cherokee Village Learning Center, and then the renamed Southeast Kansas Learning Center in Girard. He also earned recognition from the Kansas Attorney General for the 1998 Wheat State Crime Prevention Award. He retired in 2013 to pursue his dream of farming, but continued to serve in a part time capacity. Aaron also was an avid supporter of Girard Schools where he served as an active board member for eight years, including one year as President. Throughout his life, Aaron touched many lives working with school activities, the local fair, bus safety instruction, Hunter's Education and Driver Improvement Education.  
    Aaron is preceded in death by parents Paul and Ladora Callaway of Shattuck, OK, and brother Leonard Callaway of Higgins, TX.
    Aaron is survived by Jana Callaway, brother Bryan (Brenda) Callaway and Family of Shattuck, OK, brother Quintin (Melodee) Callaway and Family also of Shattuck, OK, and sister-in-law, Felicia Callaway and Family of Higgins, TX. Daughter Christen (Nathan) Smith of Blue Springs, MO, son Wesley (Heather) Callaway of Lansing, KS, son Brandon (Shelby) Callaway of Girard. Grandchildren Corinne Smith, Mauriana Smith, Addison Callaway, and Weston Callaway. Earl Robert (Bob) and G. Darlene Hanks Slapar of Eudora, Linda Slapar (Bruce) Lowdermilk of Spring Hill, KS, Harman and Karolyn Slapar Hanks and Deanna Hanks of Girard, and Curtis (Randee) Hanks of Girard.
    Graveside services will be at 

1 p.m.

, 

Tuesday

 at the Myers Cemetery southwest of Girard with Pastor Jan Veatch Yoger officiating.
    The family visitation will be from 

6 p.m. until 8 p.m.

, 

Monday

 at the Smith-Carson-Wall Funeral Home in Girard where friends may call after 

Noon

, 

Monday

. In lieu of flowers, memorials are suggested to the Beulah Community Church, the Girard FFA Chapter, or the Crawford County Fair Association designated toward the Grandstand Fund, and these may be left at the Smith-Carson-Wall Funeral Home, 518 W St. John, Box 258, Girard, 66743.