Obituary: Wendell Dale Barrow
Wendell Dale Barrow, 80, passed away peacefully at 7:30 p.m., Sunday, June 17, at the Girard Medical Center with his family present.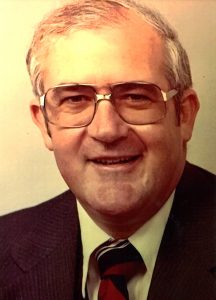 He had been a resident of the Girard Medicalodge since November 2016 from complications of Parkinson's disease.
He had lived on the family farm southwest of Girard since 1994.
Wendell was born September 15, 1937 in Girard, Kansas, to Roscoe Wylie Barrow and Mildred Marie Clutter Barrow.
He attended Gooding Grade School and graduated from Girard High School in 1955 where he was an honor student. He graduated with a Bachelor of Science degree in Chemistry from Kansas State College of Pittsburg (now PSU) in 1959. He was junior class president and a member of honorary mathematic, military and social fraternities and the American Chemical Society. He graduated from ROTC as a second lieutenant in the United States Army and was assigned at Ft. Bliss, Texas. Following his service, he moved to Port Arthur, Texas where he worked for Jefferson Chemical Company from 1960-1973. He worked as a national sales manager at various other chemical companies based in Houston, Austin and Chicago, traveling internationally. He retired in 1994 from Merichem Chemical in Houston as General Sales Manager.
Wendell married Sherron Jo Sparks in Abilene, Texas on August 5, 1961, and had two sons and later divorced. He married Ramona Troike Weber on September 13, 1997 in Girard, Kansas.
Wendell enjoyed outdoor sports such as hunting and fishing. One of his passions in retirement was attending auctions in this area in his Texas cowboy hat. He also sold for Mendenhall Apiaries and enjoyed coffee with his class members.
He was a member of the Trinity Lutheran Church of Girard
Survivors include his wife Ramona of the home, sons Douglas Dwayne Barrow (Blair) of Fairfax, Virginia, and Darin Roberts Barrow (Angela) of League City, Texas and his sister Treva Sherman (Jon) of Pittsburg, Kansas
Services for Wendell D. Barrow will be 10:30 a.m., Wednesday, June 20, 2018 at the Trinity Lutheran Church of Girard. Burial will follow in the Girard Cemetery.
No visitation is planned. In lieu of flowers memorials are suggested to the Trinity Lutheran Church and these may be left at the funeral home or mailed to the Smith-Carson-Wall Funeral Home, 518 W. St. John, P.O. Box 258, Girard, Kansas 66743.
Condolences may be sent to www.wallfuneralservices.com