Obituary: Ralph Gouvion
    Ralph was born December 9th, 1939 in rural St. Paul, Ks to Raymond Anthony Gouvion and Agnes Josephine (McKinney) Gouvion.  He went to be with our Lord and Savior on November 30, 2019 at the age of 79.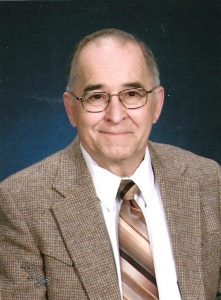 Ralph attended Mentor Country School through the 8th Grade, then attended and graduated from St. Francis Catholic High School in St. Paul, Ks in 1958.  In the summer of 1958, he enlisted in the Army National Guard and transferred to the Army Reserves completing his 8 years of service in 1966.  After graduating basic training at Ft. Leonard Wood, Mo in the fall of 1959, Ralph worked one year for O'Brien Rock Crusher., then began working for Commercial Bank of Parsons.  In January 1961 he married Viola Ann Schwind (parents, Clay C. and Anna C. Schwind) at St. Francis Catholic Church in St. Paul, Ks, then moved to Parsons, Ks.
   In 1964, they moved back to St. Paul after he was hired by The Exchange State Bank, where he soon served as president until he retired from the bank in 1988.  While he was president of the bank, Ralph was instrumental in establishing The Exchange Insurance Agency.  Upon his retirement, he purchased and operated the insurance agency until he sold it to his son Ron J. Gouvion in January 2005.  He continued to work there until he became ill with cancer in late 2018.  Ralph really enjoyed helping people whether it was with insurance, planning for their retirement, or helping with their taxes.
     Ralph was an organizer and charter member of the Osage Village Senior Housing Units which were completed in 1969.  He also served as Chairman of the St. Paul Comprehensive Planning and Zoning Commission.  He served four terms on the city council and 1 term as mayor for the City of St. Paul in the early 70's.  He was involved in the formation of the Osage Hills Country Club and was treasurer for several years.  For over 40 years he served as Sec-Treas. of the St. Paul Cemetery District #19.  Ralph felt very blessed to have been able to serve the community he loved so much.  Following St. Paul sports, especially football, was always one of his favorite pastimes.
    Ralph was also very involved in the church.  He was a member of the Knights of Columbus since he was 18 years old.  He taught high school CCD classes and was a Eucharistic minister for St. Francis Catholic Church.  Ralph enjoyed the outdoors, fishing and hunting with his children and grandchildren. He was an avid bowler for over 50 years and won many titles and loved to golf. He also enjoyed putting in a large garden every year and making fudge and peanut brittle at Christmas time to give out as gifts.
     Ralph is survived by his wife Viola Gouvion of the home, sons, Wayne A. Gouvion of Newton, Ks., Ron J. wife Sandra J. (Hoffman) Gouvion of Chanute, Ks., Mark A. wife Tammey S. (Bishop) Gouvion of Cassville, Mo., David C. wife Kristina A. (Trujillo) Gouvion of Centerton, Ar., James E. wife Brenda J. (Kelley) Gouvion  of Arma, Ks, daughter Cynthia M. wife D. Jill  Shaddy-Gouvion of Mission, Ks., 17 grandchildren, 5 great-grandchildren,  many nieces and nephews, sisters-in-law, Carolyn Gouvion and Mary Jane Gouvion.  Ralph was preceded in death by his son, Louis Eugene Gouvion, both of his parents, and his two brothers, Donald Gouvion and Charles Gouvion.
     The Rosary will be held at 6 p.m. Thursday evening at the St. Francis Catholic Church and the Funeral Mass will be at 10 a.m. Friday, also at St. Francis Catholic Church with the internment to follow at St. Francis Catholic Cemetery with military honors given by Brown-Bishop Post No. 704, Veterans of Foreign Wars, Parsons, Kansas. Lunch will then be served at St. Francis Parish Hall.
   Donations may go toward Masses for Ralph or his family, to the University of Kansas Cancer Center, or Prairie Mission Retirement Village.  These may be left at or mailed to Forbes-Hoffman Funeral Home, P.O. Box 374, Parsons, KS  67357.
  Online condolences may be left at www.forbeshoffman.com.