Obituary: James Dana (Red) Sturgeon
James Dana (Red) Sturgeon, 91, of Girard, Kansas, passed away Sunday, March 11, 2018.
He was born April 9, 1926, in Girard to James Dana and Lillian Lucille (Hughes) Sturgeon.
On May 23, 1948, he was united in marriage to Mary Lou Salyer in Girard.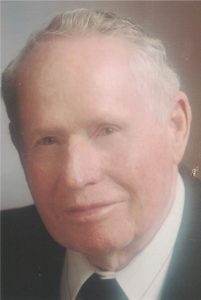 He worked as a welder on construction for 39 years travelling the United States working on pipelines, refineries, and power houses.
He was a member of the Plumbers and Pipefitters Union #441, First Christian Church of Girard, Masons, & the Girard American Legion.
He served as a ball turret gunner on B24 bombers during WWII.
Survivors include his two daughters, Cheryl Sue Correll and husband Bill of Girard, Sharon Willauer and husband Fran of Naples, FL; 4 Grandchildren, Aaron Coester and wife Melissa of Girard, Sibyl Willauer of Frontenac, Brigette Willauer and husband Nick Mizell of Florida, and Renee Pugliese and husband Frank of Florida; 8 Great-grandchildren.
He was preceded in death by his parents, brother, Robert Sturgeon, wife, and son, James D. Sturgeon III.
Memorial Services will be 11:00 a.m. Saturday March 17, 2018 at Friskel Funeral Chapel in Frontenac with Pastor Rick Prideaux officiating.  Condolences may be left at www.friskelfuneralhome.com. Memorials may be left to the Girard American Legion; these may be left or mailed to the funeral home. Services by the Friskel Funeral Home 230 E. McKay Frontenac, KS 66763.