Obituary: Ilene R. Everitt
Ilene R. Everitt, 81 of Girard, passed away at 7:40 a.m., Tuesday, July 30, 2019 at the Via Christi Hospital of Pittsburg.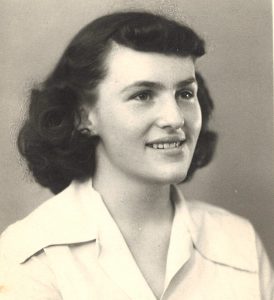 Ilene was born September 9, 1937 in Pittsburg, a daughter of Walter Leroy and Vera (Hesson) Smith.
She attended school in Pittsburg, graduating from the Pittsburg High School.
Ilene and Jim Everitt were united in marriage on March of 1956, they later divorced.
She was employed as a cook for the U.S.D. 248 for many years.
She enjoyed her family, sewing, needlepoint, and crocheting.
Ilene was a member of the V.F.W. Auxiliary, the Eastern Star Rob Morris Chapter #74, she served as a Pink Lady for the Girard Medical Center and was a member of the United Methodist Church of Girard where she was involved in the churches activities.
Survivors include one son; Jim Everitt and his wife Mikki of Girard; three daughters; Kay Wolfe and her husband John of Chetopa, Kansas, Dianna Swagerty and her husband Randy of Boise City, Oklahoma, Carla Stewart and her partner Ronny Freeman of Girard; ten grandchildren, and eleven great-grandchildren
Ilene was preceded in death by her parents; two brothers, Kenneth Smith, Clarence Smith; three sisters, Wilma Workman, Imogene Hanigan, Patricia Yanke; one grandchild and two great-grandchildren.
Services will be at 2 p.m., Saturday, August 3, 2019 at the Smith-Carson-Wall Funeral Home of Girard with Pastor David Clark officiating; burial will follow in the Girard Cemetery.
Visitation will be Friday from 6 p.m. till 8 p.m. at the funeral home; friends are invited to call at the funeral home after 2 p.m. Friday.
Memorials are suggested to the Arma American Legion Auxiliary and these may be left at the funeral home or mailed to the Smith-Carson-Wall Funeral Home, 518 W. St. John, P.O. Box 258, Girard, Kansas 66743.
Condolences may be sent to www.wallfuneralservices.com