Obituary: Elizabeth "Betty Jo" Peak
Elizabeth Jo "Betty Jo" (Blair) Peak, 83, of Girard, passed away at 4:37 p.m. on Thursday, September 19, 2019, in her home surrounded by her family.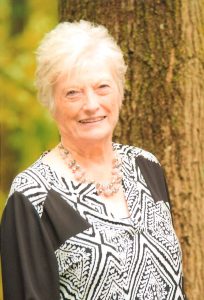 Betty Jo was born March 8, 1936, in Girard, Kansas, to Gerald "Red" and Margaret  "Toots" (Neet) Blair.
Betty Jo grew up in the Radley area, and attended Harmony (Frog Holler) grade school. She graduated from Girard High School in 1954. She and her high school sweetheart "Jimmy" were married on November 13, 1956.
After living in Augusta and Beloit, she and Jim returned to Girard in 1961 to raise their family and purchased Peak Auto Service in 1964. According to Jim, he was "thankful to BJ for doing most of the work in raising five great kids."
Family was the most important thing to Jim and Betty Jo. Together they set an example of unconditional love and devout faith in raising their five children, 12 grandchildren, and 12 great grandchildren (with one on the way).
Betty Jo was a talented artist and enjoyed painting watercolor pieces in her art studio behind the family home. Her artwork hangs on the walls of all of her children's homes, and the family especially cherishes the pieces Grandma painted them for Christmas and birthdays in recent years. She passed her artistic ability and creativity on to many of her children, grandchildren, and great-grandchildren.
Humility, selflessness, strength and hard work are just a few of the words her family used to describe her, and of course they would not forget her witty sense of humor.
Survivors are sons Mark (Trish) Peak and Greg (Diana) Peak, daughters Mitzi (Jerome) Beezley, Dana (Roscoe) Newton, and Kelly Peak. She cherished her twelve grandchildren and 12 great grandchildren, including:  Lynn (Joe) Fleming, Connor, Molly, and Rowan; Jessica (Dustin) Dunbar, and Charlie; Alixandra Beezley; Zachary (Megan) Newton, Brooks and Holden; Seth (Ashley) Newton, Kelcyn, Graham, and Reid; Abby (Caleb) Geiger, Adrian, Avery, and Arlo; Madison Peak; Bailey (Brady) Kyle, and baby Kyle; Hunter (Kaylee) Peak; Cody Bradshaw; and Carley Bradshaw. She is also survived by one brother, Don (Sherry) Blair of Girard, Kansas.
She is preceded in death by her husband, Jim Peak, and grandson, Travis Newton.
The family would like to extend their gratitude to Joann Grotheer for her compassionate care.
Betty Jo was a member of St. Michael's Catholic Church in Girard. Funeral mass will be at 10:30 a.m. on Monday, September 23rd, at St. Michael's with Fr. Floyd McKinney and Fr. Michael Baldwin as Concelebrants.  Burial will be in the Girard Cemetery.  A rosary will be held at 6:00 p.m. on Sunday, September 22nd, at St. Michael's Church where the family will receive friends following.
Friends may call at the Smith-Carson-Wall Funeral Home from 1:00 until 4:00 p.m. on Sunday.  Memorials are suggested to St. Michael's Building Fund or the Girard Area Community Foundation and these may be left at the church or the funeral home at 518 W. St. John, P.O. Box 258, Girard, Kansas 66743.