Obituary: Alicia Murphy
Alicia Murphy, 68, of St. Paul, died at 6:43 P.M., Thursday, October. 8, 2015 at the Via Christi Hospital in Pittsburg.
She was born October 5, 1947 at Palmer, MA, a daughter of Ralph and Anna Virginia (Anderson) Dorval. She grew up in Palmer and attended school there. She lived in Melbourne, FL for many years where she worked in long-term care. Upon her retirement, she returned to Palmer, and then moved to St. Paul, KS to be with her daughter in 2014.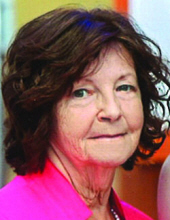 She was united in marriage to John Molitoris and later Richard Murphy. Both preceded her in death.
She was a member of the St. Francis Catholic Church at St. Paul.
Survivors include One daughter and son in-law – Cheryl and Mark Smith, St. Paul, KS; Three grandchildren – Alex Skelton, and her husband, David, Kansas City, MO; Austin Smith, St. Paul, KS; Eric Smith, St. Paul, KS; Four brothers – Jerry, Victor, Pierre and Joel; and eight sisters – Patricia, Joyce, Christine, Sharon, Linda, Giselle, Laverne and Lisette.
She was preceded in death by her parents and one brother – Neil Dorval.
A memorial Mass will be held at 10:00 A.M., Monday, October 12, 2015 at the St. Francis Catholic Church at St. Paul, KS with Fr. David Michael Htun officiating. Burial will be in the St. Francis Cemetery at a later date. The Rosary will be recited at 6:00 P.M., Sunday at the CARSON-WALL FUNERAL HOME at St. Paul. Memorials are suggested to the St. Francis Catholic Church and may be left at or mailed to the funeral home, P.O. Box 272, St. Paul, KS 66771. Online condolences may be left at www.wallfuneralservice.com.