Lost dog unites community, inspires acts of kindness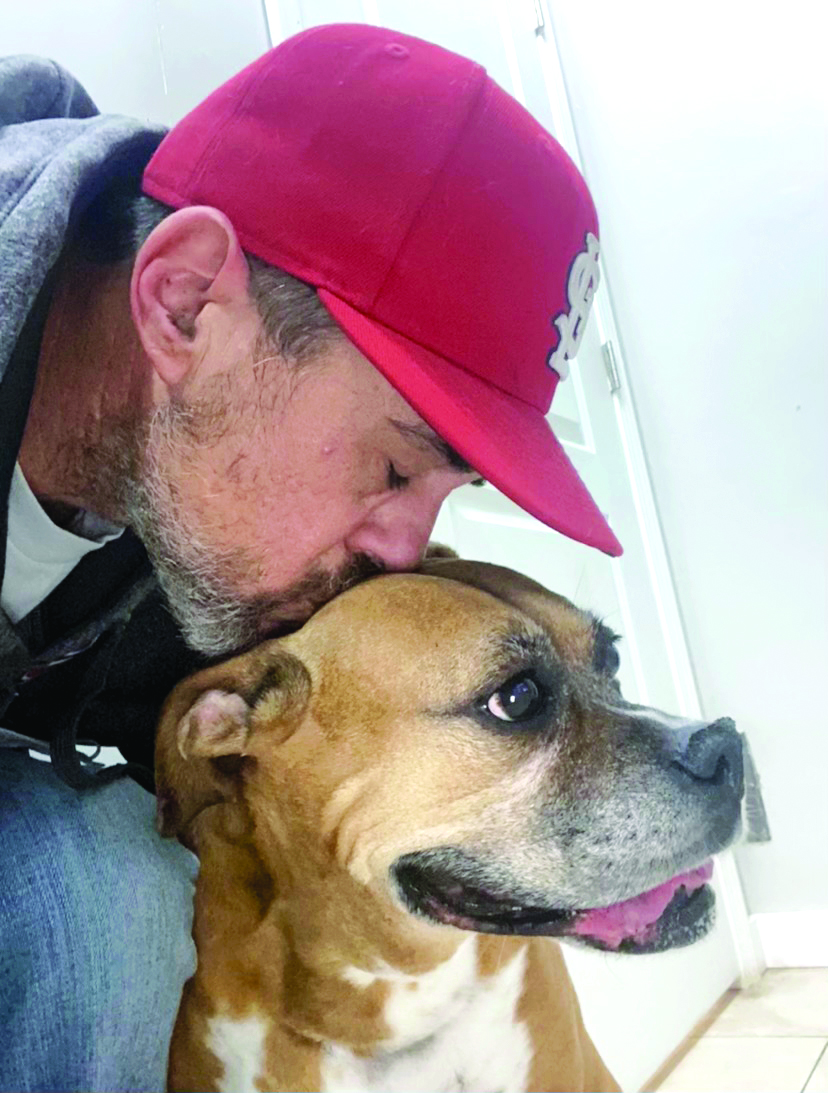 BY JENNIFER MOWDY
HOMETOWN GIRARD
Supervet veterinary surgeon Noel Fitzpatrick said, "People don't get the big picture – animals matter, people matter, and animals in the lives of people matter." Dr. Fitzpatrick has obviously never been to southeast Kansas because the residents of Frontenac and Pittsburg definitely do get the big picture. Friday, November 18, marked the beginning of a harrowing four-day ordeal for an 11-year-old boxer named Annie and her human dad, Chris Hagman. The experience could quite possibly have had a heartbreaking conclusion for Annie and Hagman if it hadn't been for some amazing folks in and around Frontenac and Pittsburg who came together to rally around a stranger in need.
Pittsburg State University Alum and Wichita resident Chris Hagman was staying in Frontenac at the Lamplighter Inn while in town for his dad's funeral, John Hagman. While having dinner with family at Barto's on Friday, Hagman got a call that every pet owner dreads. His three dogs had escaped his hotel room and, although hotel staff had been able to capture two of them, his beloved boxer, Annie, was still missing.
Immediately heading back to the hotel, Hagman scrambled to think of what to do first. He decided to reach out on social media so that residents in the area could be on the lookout for his dog. Someone at the hotel suggested a local Facebook group, and Hagman quickly posted the first of many lost dog posts that he would type over the next four days. "I just frantically was trying to come to my senses of where I was, trying to figure out what happened to her and honestly, I was just in shock because Annie, of all dogs, she's my baby," recalled Hagman.
Annie's past made her an especially difficult dog to locate because Hagman rescued her as a pup from an abusive situation. The traumatized pup had an extremely difficult time learning to trust humans. In fact, it took years of constant work with Annie, help from Hagman's other dogs, and unwavering commitment to her to finally earn her trust. "She's been my shadow ever since," Hagman added.
Annie's fear of humans other than her dad plus her (and her dad's) unfamiliarity with the area combined to make the search for her extraordinarily challenging. Enter the community of Frontenac and residents like Kay Gobl. Hagman was astonished that by the time he went to bed Friday night, his original Facebook post had already been shared over 100 times. Concerned residents like Gobl had taken charge of spreading the word about Annie, even though they had never even met her or Hagman. "I used to live in that area by the hotel, so I shared it and put all the connecting roads where she might be…and then shared and tagged several friends and family in that area to keep an eye out for her. I was heartbroken. I just couldn't imagine what he was going through," Gobl said of when she first saw Hagman's Facebook post. One of the first things Gobl did was reach out to Keesha Hervey, editor for the Hello Frontenac Facebook page, who also shared Hagman's posts over the next four days and continuously encouraged members to share updates and be on the lookout for Annie.
By Saturday, Hagman said the whole community had rallied around him, helping him look for Annie. Police officers would either wave as they passed him creeping down the road with his hazards on or they would stop and offer to help search. Complete strangers contacted him offering to pay for his hotel room or bring him food, and local farmers were offering to use their ATVs to search the nearby woods and farmland. Hagman was in awe as he said, "You know, I can't even tell you these people's names. That's what was so overwhelming. When I was walking around people's fields, everyone knew who I was…It was unbelievably beautiful."
Troy Graham of AV8 Droneworx met with Hagman and put a drone in the air to get a better view of Annie's possible whereabouts after Gobl contacted Graham about the idea. "He said absolutely. He didn't even hesitate," Gobl said of Graham. That was just another example of the community's willingness to help out a total stranger in his time of need. But it wasn't just physical help that Hagman was offered. He got constant phone calls and messages offering spiritual and emotional support as well. Gobl sent Hagman a picture of St. Anthony's holy card and told him that he was the miracle and the finder saint and that he would help him find Annie. "Nobody let me give up hope," said Hagman, "because every time I got my head down, there was a stranger doing something extra and out of the ordinary to get me through that moment; to let me know it was OK. You know, I had two men come up to me at different times when I was in tears, and they put their hands on my shoulders and looked me dead in the eye and said 'Frontenac is not gonna let you go home without your dog.'"
The miracle that the whole community had been praying for finally happened early Monday morning, November 22. Hagman received a call from someone stating he was looking at Annie out in a field. Hagman rushed over and tried to coax the terrified dog to him, but she was so frightened she ran into the nearby woods. With a rush of adrenaline, Hagman ran after her and was finally able to grab hold of her. It took Annie several seconds of struggling before she finally saw her dad's face up close and recognized him. "…and then she just paused and looked up at me and just melted into my arms," Hagman remembered.
Back home in Wichita with his beloved Annie and his two other dogs, Hagman said he simply cannot express in words how much it means to him the way the community of Frontenac came together for him when he needed it most. "I just want them to know how appreciative I am. I want people to remember the beauty within themselves that they showed me and to live life like that because if they live life like the way they treated me those four days, this corner of the state will be a more beautiful place and it will spread," said Hagman. Because of the phenomenal love and kindness shown to him, Hagman says he feels like he and Annie will always be a part of the Frontenac community. He plans on visiting again soon, having dinner with the many new friends he made, and thanking everyone face-to-face. "I don't expect people in southeast Kansas to do this for every single person," he added, "but I have a feeling this is their everyday DNA and they would do this for every person…the genuine kindness for no other reason than to help their fellow man out in a time of need, and that's what life is about."
"Frontenac is not gonna let you go home without your dog."

Anonymous Frontenac resident