UPDATE: Vandalism in St. Paul and Erie
Residents of both St. Paul and Erie woke up Sunday morning to news of local businesses and Erie High School being vandalized late Saturday night.
Neosho County Sheriff's Department received a report at 502 Lafayette of a juvenile that had been in an arguement with a parent and had gone missing late Saturday night, April 21.
While looking for the juvenile at approximately 10:30 p.m., Deputies located vehicles behind Mac's Get-n-Split in St. Paul, with doors standing open. Further investigation revealed the store had been broke into and a great deal of damage had been done inside.
A neighborhood canvas revealed that the Farmers Bank exterior glass doors had been broken as well as some damage done to The Lodge restaurant building. Items from The Lodge were located at both Farmer's Bank and Mac's.
It was also found that a 2011 Ford F-350 had been stolen. Deputies began processing the scene, when they learned that the stolen truck and the missing juvenile were found inside the Erie High School.
At approximately 11:30 p.m. the pickup was driven through the front doors of Erie High School and down the halls causing damage to doorways, walls, gates, furniture and the antique soda fountain bar from Richey's Drug Store.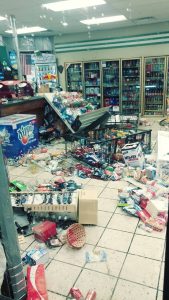 The truck was stopped at the entrance to the technical shops where the driver was taken into custody by Erie Police Department.
The Erie Police Department arrested the juvenile and are working the Erie High School case.
The student recorded the incident at Erie High School on his Snapchat and the police were called.
This teen was a resident of St. Paul but was attending school at Erie.
EHS had school today with modifications to parking and student drop offs as some of the school is still being cleaned and fixed today, Monday, April 23.
In addition, the EHS FFA Banquet that was scheduled to be held at the high school Monday night will now be held at Tony's Function Junction.
From the Sheriff's Office Facebook page: On behalf of the Sheriff's office and the crimes that occurred in St. Paul, reports will be sent to the C/A requesting charges on Peyton White 16, St. Paul for Criminal Damage and Theft from the Lodge; Attempted Burglary and Criminal Damage at the Farmers Bank; Burglary and Criminal Damage to Mac's; Burglary of 3 vehicles that were parked at Mac's; Burglary, Theft and Criminal Damage of a 2011 Ford F-350 truck. The truck was valued at $15,000, the estimates of the criminal damage to the businesses have not yet been completed.
Investigations are still pending by Erie Police Department and Neosho County Sheriffs Office.