Pittsburg State to cut 19 positions due to declining revenue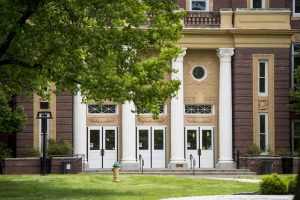 Pittsburg State University officials announced on Thursday they will cut 19 positions due to stagnant state funding, increasing costs and enrollment pressures.
   The employees impacted by today's announcement were alerted this week.  
   "These are the most difficult decisions I've had to make during my 30 years at Pittsburg State," said Pittsburg State University President Steve Scott. "It's a life-changing moment for our employees and their families. We're going to do everything possible to help them in this difficult time." 
   Employees affected by the layoff will continue to be paid through mid-June, receive job placement assistance through the university's Office of Career Services, and have preferred status for university job openings over the next 12 months.   
   Like many colleges and universities, Pittsburg State has faced declining enrollment in recent years, especially in international students. It also has faced increasing costs and declining state funding, which remains at the same level it was in 2006.  
   University officials have regularly spoken about the impact of the stagnant funding on the institution's operations. During a February campus Town Hall meeting, university CFO and Vice President for Administration Doug Ball pointed out that had state funding simply kept pace with inflation during that time, Pittsburg State would have seen its general fund budget increase by nearly $9 million.
   "We've joined with the Kansas Board of Regents in actively advocating for additional state funding for many years," said Scott. "Those efforts have clearly, and sadly, not resonated with the legislative leadership. Our employees shouldn't have to face the uncertainty that results from this stagnant funding. As we look ahead, we remain concerned about our state leaders' lack of interest in higher education and, ultimately, in the future of the state. Our employees, our university and our community deserve better."  
   Today's layoffs are part of a long-term cost reduction plan by the university. Since late 2016, the university has cut General Fund budgets by nearly $5 million, including the reduction of 47 full-time positions. These positions have been in areas throughout campus including unclassified and support staff as well as faculty. When combined with today's job cuts, the university has reduced its full-time employees by more than 7 percent over the past 18 months.  
   A Budget Prioritization Work Group was created in the spring of 2017 to help administrators identify potential operational cost savings. Recommendations from this task force, as well as from the Strategic Planning Council, helped the university reduce general budget expenditures during the current fiscal year. The savings were realized through a variety of actions including utility efficiencies, reduced equipment and operational spending, and administrative and academic restructuring. 
   "Every office and department has played a role in helping us through this difficult time," said Ball. "Faculty are taking on additional responsibilities and staff are shouldering new roles in order to limit the impact on our students. It's admirable, but I share the President's concern about the long-term repercussions for our campus." 
   That concern is coupled with frustration at the lack of adequate financial support from the state, especially when placed in context of the growing support from local partners for capital projects, scholarships and program enhancements.  
   "The stagnation of state funding stands out when you look at the robust support our university has enjoyed from our region," said Scott. "The City of Pittsburg, Crawford County, and individual and corporate donors have invested in our university. They believe in us and have helped us move forward in recent years. If our political leaders would show the same interest in higher education that our local partners do, our entire state would benefit." 
   Even with the lack of state support and financial pressures, Scott said he remained optimistic about the future. 
   "The strength of this university remains, just as it has for over 100 years, in the quality of its academics and the support of its community," said Scott. "These haven't changed. We have a clear vision and, thanks to our 'Pathway to Prominence' Strategic Plan, the means to make it a reality. Because of this, Pittsburg State will continue to be the first choice for students, scholars and economic partners."