Pittsburg State offers 'Fan Bus' to Gorilla bowl game in Texarkana
Pittsburg State University is reaching out to Gorilla football fans interested in reserving seats on a special "Gorilla Fan Bus" to watch Pittsburg State battle Arkansas Tech on Dec. 2 in the Agent Barry Live United Bowl in Texarkana, Ark.
"Our alumni and fans are excited to watch the Gorillas play again this year," said Jon Bartlow, director of Alumni and Constituent Relations. "Once the bowl invitation became official Wednesday, we began receiving calls asking about the possibility of fan bus. We've secured the bus, now we need to secure at least 40 Gorilla fans to make it a reality."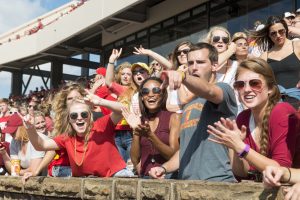 While the bus can hold up to 56 people, at least 40 Gorilla fans are needed to make the trip affordable. Pittsburg State's alumni office has also secured a special discounted rate ($74 before tax. Includes breakfast) at the Courtyard by Marriott hotel, and will host a special pre-game tailgate at the Hopkins Icehouse in Arkansas.
If enough fans sign up, the bus will leave the Wilkinson Alumni Center on the campus of Pittsburg State at noon (12 p.m.) on Friday, Dec. 1. Fans will stop for dinner in Fort Smith, Arkansas, before travelling on to Texarkana. Fans are scheduled to arrive in Texarkana in time for a special pep rally at the Texarkana Texas Convention Center and a concert by the Robert St. John Band.
The bus will return to Pittsburg following the Gorillas' game on Saturday, Dec. 2. Fans will need to reserve their hotel rooms and buy game tickets separately, but a special block of rooms has been reserved for the Gorilla faithful. Local ticket sales end on Wednesday, Nov. 29, at the end of the business day.
The price range for a seat on "Gorilla Fan Bus" will depend upon the total number of seats reserved. The estimated cost will be between $65 and $85 per seat.
"We've worked to make the schedule as convenient and relaxing as possible," said Bartlow. "The season ended on such a strong note that we really didn't want it to end, and we know Gorilla fans feel the same way. We're hoping for a great response so that we can make the 'Gorilla Fan Bus' a reality."
Seats must be reserved by noon on Monday, Nov. 27. Total cost for the trip, including hotel and game tickets is estimated at $169. Fans signing up will be alerted as the trip's status no later than 5 p.m. on Monday, Nov. 27.
Online registration is now open or, for questions, please visit pittstate.edu/alumni, call 620-235-4758, or email alumni@pittstate.edu.