Obituary: Nellie V. Wutke
Nellie V. Wutke, 90, of Girard, Kansas, died at 7:45 a.m., Thursday, May 4, 2017 in the Westridge Retirement Community in Girard.
Nellie was born February 27, 1927 in Pineville, Missouri. She was the daughter of Charles and Alma (Marble) Cornelison. She grew up and attended school in Pineville.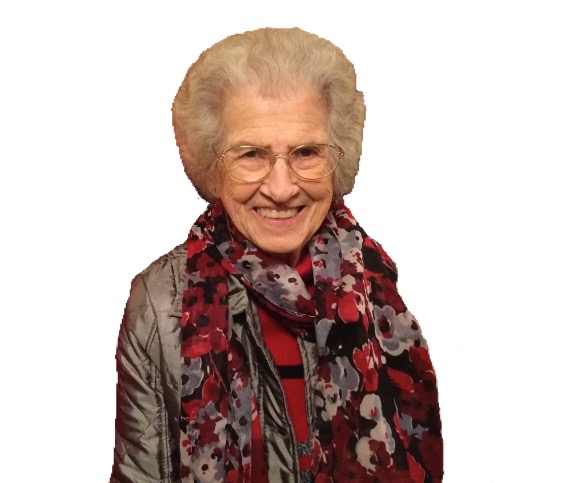 Nellie lived in Wichita, Kansas, and worked as a riveter at an airplane assembly plant during WWII and at a café in Wichita, where she met her husband Red.
She married Clarence S. "Red" Wutke on April 4, 1942 in Wichita, Kansas. He preceded her in death on March 27, 1982.
They lived in Wichita, Fulton, KS, and Columbia, MO before moving to rural Girard in 1947, where she and Red raised their four boys while she worked as a nurse aide at the Girard Hospital.
Nellie's love for cooking and providing for others led her to purchase Fern's Café in Girard in 1970. Nellie changed the name to the East Side Café. Her son Ron purchased the café from her in 1986. She continued to work with Ron until her retirement.
Nellie was a Christian and a member of the United Methodist Church in Girard. She made the community of Girard her home and many children of Girard her family. Nellie will be remembered for providing doughnuts on both Halloween and Christmas Eve. She was a woman who loved to cook and bake for those around her and loved being an active member of the Girard community.
Nellie is survived by her sons, Steve Wutke, and his wife, Betty and David Wutke, and his wife, Robin; a daughter-in-law, Cathy Wutke; grandchildren Cheryl Michelet (Kirk), Kristin Weis (Jason), Sam Wutke, Angie Hickman (Jarrod), Lance Reeves, Drew Wutke, and Dane Wutke (Christy); great-grandchildren Christian and Jessica Michelet, Madison Wutke, Joshua and Hannah Weis, and Brooks and Brady Hickman.
Nellie was the youngest of 14 siblings that preceded her in death. She was also preceded in death by her sons, Sam C. Wutke, on March 16, 2007, and Ronald D. Wutke, on February 27, 2010.
Funeral Services will be at 10:30 a.m., Monday, May 8 at the United Methodist Church in Girard with Pastor Dallas Peterson officiating. Burial will be in the Girard Cemetery.
The family will receive friends from 4 until 7 p.m., Sunday, May 7 at the United Methodist Church in Girard.
Memorials may be given to the United Methodist Church or the Girard Medical Center and may be left at the church or the Smith-Carson-Wall Funeral Home, 518 W St. John, Box 258, Girard, KS 66743.
The Wutke family wishes to thank Girard Medical Center and staff, Dr. Lisa Salvador and staff, and the staff of Westridge Retirement Community.
Condolences may be sent to www.wallfuneralservices.com.