Obituary: Melvin A. Kroenke
Melvin A. Kroenke, 90, of Topeka, Kansas, died at 12:40 p.m., Wednesday, March 22, 2017 at his residence in Topeka.
He was born April 2, 1926 at Walnut, Kansas, a son of Arthur C. and Lydia M. (Weber) Kroenke.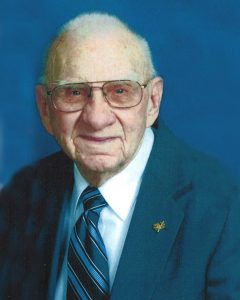 Melvin attended Immanuel Lutheran School at rural Hepler, Kansas.
Melvin served in the US Army during the Korean Conflict.
Melvin married Jo Ann Hafenstein on November 6, 1955 at Hepler.  She survives of the home.
Melvin worked at the Kansas Army Ammunition Plant in Parsons before moving to Chanute, Kansas in 1957 and to Hepler in 1959, where he worked for Chink Ritter at the fertilizer and feed store.  He later worked at Producer's Coop in Girard.
Melvin and Jo Ann moved to Lansing, Kansas in 1965 where Melvin worked for the Department of Corrections before moving to Topeka in 1975.  In 1983, Melvin worked as Chief of Security at the Pre-Release inmate program in Topeka before retiring in 1988.
Melvin was a member of Faith Lutheran Church in Topeka and he enjoyed his family, carpentry, woodworking, art work, and puzzles.
Survivors are his wife, Jo Ann, of the home; a daughter, Catherine Atchison, and her husband, Russell, of Berryton, Kansas; his sons, Gerald Kroenke of Boise, Idaho, Paul Kroenke, and his wife, Denise, of Berryton, Kansas, David Kroenke, and his wife, Kathleen, of Tecumseh, Kansas, Marlin Kroenke, and his wife, Genevieve, of Springfield, Missouri; eleven grandchildren; sixteen great-grandchildren; his sisters, Viola Beckman and Gladys Hay, both of Girard.
Melvin was preceded in death by his parents, a daughter-in-law, Susan Benton Kroenke; his brothers Albert Kroenke, Oscar Kroenke and Wilbert Kroenke; his sisters Florine Herlocker, Elsie Mae Stoll, and Ella Kroenke.
Funeral services will be at 11 a.m., Tuesday at the Smith-Carson-Wall Funeral Home in Girard with Pastor Mark Wenzelburger officiating.  Burial will be in the Immanuel Lutheran Cemetery near Hepler, Kansas with Military Honors given by the Brown-Bishop Post No. 704, Veterans of Foreign Wars of Parsons, Kansas.
The family will receive friends on Tuesday from 9:30 a.m. until service time.  Friends may call after 2 p.m., Monday at the Smith-Carson-Wall Funeral Home.
Memorials are suggested to Immanuel Lutheran Church or Avalon Hospice and these may be left at the Smith-Carson-Wall Funeral Home, 518 W St. John Box 258, Girard, 66743.
Condolences may be sent to www.wallfuneralservices.com