Obituary: Judith Gayle Patton
Judith Gayle (Lamb) Patton, 70, of Girard, died at 11:38 a.m., Thursday, June 15, 2017 in the West Ridge Retirement Community in Girard, Kansas.  She was in failing health for several years.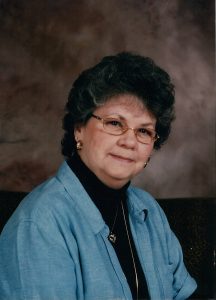 Judith was born February 22, 1947 in Parsons, Kansas, a daughter of Robert Lamb, Sr. and Ruth M. (Wilson) Lamb.  She grew up in Parsons and attended Labette County High School in Altamont, Kansas.
She married Howard E. Collins and they divorced.   Judith married Robert L. "Bob" Patton, Jr. on May 14, 1994 in the First Christian Church in Girard.  He preceded her in death on November 14, 2013.
Judith worked at the Kansas Army Ammunition Plant in Parsons for over 20 years before moving to Girard and attending Fort Scott Community College and receiving her nursing degree.  She worked as an RN at the Girard Medical Center.
Judith enjoyed nursing, working in her yard and flower gardening, playing the piano, reading, and family gatherings.
Survivors are her sons, Jeffery E. Collins, and his wife, Marie, of Parsons; Steven T.  Collins of Parsons, Greggery L. Collins of Parsons; her daughters, Kimberly S. Geier, and her husband, Bret, of Girard and Kristie R. Koger, and her husband, Bernie, of Parsons; 15 grandchildren; 16 great-grandchildren; 3 step-grandchildren.
Judith was preceded in death by her parents, her step-son, Robert L. "Bobby" Patton, III, and her brother, Robert D. Lamb, Jr.
Funeral services will be at 1 p.m., Monday at the Smith-Carson-Wall Funeral Home in Girard with Chaplain Wayne Mason officiating.  Burial will be in the Girard Cemetery.
The family will receive friends from noon until service time Monday at the Smith-Carson-Wall Funeral Home where friends may call after 4 p.m., Sunday.
Memorials are suggested to the Girard Medical Center and these may be left at the Smith-Carson-Wall Funeral Home, 518 W St. John, Box 258, Girard, 66743.
Condolences may be sent to www.wallfuneralservices.com