Obituary: Juanita C. Clawson
Juanita C. Clawson, 91, of McCune, passed away at 4:20 a.m., Friday, November 3, 2017 at Medicalodges Frontenac.
She was born March 1, 1926 in rural Melrose, Kansas to Merle and Lela (McGill) Voltz.   As a young girl, she moved with her family to a farm south of McCune.  Juanita attended McCune schools and graduated from McCune Rural High School in 1943.  In 1959, she graduated from Pittsburg State Cosmetology School.  For 22 years, Juanita owned and operated Juanita's Beauty Shop in her home.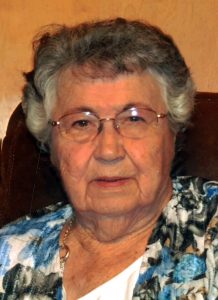 She was a member of the Osage Church of the Brethren in McCune where she served as a deaconess for many years.  She enjoyed spending time with her family and friends, sewing, gardening, and camping.
On January 13, 1946, she and Merle E. Clawson were married at the Osage Church of the Brethren parsonage.  He survives of the home.
In addition to her husband, survivors include:
Two Sons – Jerry Clawson                             Frontenac, KS
Stanley Clawson and his wife, Debbie           Pittsburg, KS
Three Grandchildren – Sara Imhof and her husband, John; Eric Clawson and his wife, Whitney; and Greg Clawson
Six Great-Grandchildren – Emily, Caroline, Max, and Ian Imhof; and Luke and Clare Clawson
Funeral services will be held at 10:30 a.m., Tuesday, November 7, at the Osage Church of the Brethren in McCune.  Burial will be at McCune Cemetery.  The family will receive friends from 7-8 p.m., Monday, at the Forbes-Hoffman Funeral Home in Parsons.
Memorials are suggested to the Osage Church of the Brethren or the McCune Osage Township Library.  These may be left at or mailed to Forbes-Hoffman Funeral Home, P.O. Box 374, Parsons, KS 67357.
Online condolences may be left at www.forbeshoffman.com.