Obituary: Darron James Hanson
Darron James Hanson, age 45, died suddenly in his home on March 16, 2018 in Richmond, TX.
Darron was born on April 6, 1972 in Iola, KS to his parents, Jim and Judy Hanson. He graduated from Girard High School with the class of 1990 and his eyes would light up when he talked about those days. He was proud to be a boy from SEK (Southeast Kansas).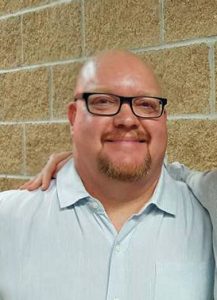 Darron's first career was in radio as a DJ for KOCD in Joplin, Missouri. He loved playing rock music and getting to meet many artists during this time. Darron always said that he knew just enough about music to realize how bad his own guitar playing really was. He rarely played for others, but that didn't stop him from enjoying music his entire life.
A career change brought a move to Texas in 1999. Darron became a mostly self-taught Information Technology manager. If someone asked him a question he could not answer, he would research until the problem was solved. He was able to use those IT skills at CyrusOne, a company he was with from its beginning. He was involved with multiple departments until he settled into his position as Director of Implementation Services, a role he held until his passing.
Throughout Darron's life, the common thread was lifelong friendships he cultivated. He made it a priority to keep in touch with former classmates as well as colleagues.
Darron was also a father. One of the things he most loved about being a dad was sharing his favorite things. Whether it was seeing a blockbuster movie on opening weekend, attending concerts (usually from the front row), bass fishing on the lake or savoring a perfectly grilled steak, he enjoyed it most with his children.
Darron is survived by his children, Grace and Grant of Missouri City, TX, whom he shared with former spouse, Jen Hanson-Smith; his parents, Jim and Judy Hanson of Girard, KS; and his brother Bryan Hanson (wife Kerri) of Pittsburg, KS and their son, Garrett.
He was preceded in death by his grandparents Grant and Doris Holderman and Raymond and Ruth Hanson.
A Service of Remembrance will be held Friday, March 30 at 4:00 p.m. at Brenner Mortuary with Reverend Jim Sukraw officiating. In lieu of flowers, memorial contributions may be made in Darron's memory to either the Fender Music Foundation or the American Heart Association. These may be left at or mailed to the Brenner Mortuary, 114 E. 4th St., Pittsburg, KS 66762.  Friends may leave condolences online at www.brennermortuary.com.  Arrangements are under the direction of the Brenner Mortuary, Pittsburg, KS.