Obituary: Betty M. Marshall
Betty M. Marshall, 94, of Girard, Kansas passed away at 2:22 a.m., Tuesday, February 27, 2018 at the Medicalodge of Girard.
She was born June 27, 1923 in Melrose, Kansas a daughter of Jesse L. and Anna M. Heinrichsmeier Jarvis.
She attended school in Columbus, graduating from the Columbus High School.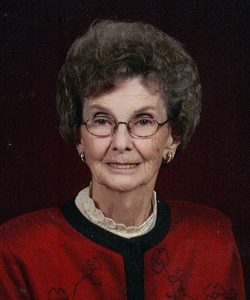 After graduation Betty worked as a stenographer and receptionist for Cherokee County in Columbus.
On September 6, 1942, Betty was united in marriage to Charles (Chuck) Marshall in Columbus, Kansas; he preceded her in death on March 11, 2000.
Betty and Chuck managed a farming operation east of Farlington, Kansas. Chuck than began a career managing grain elevators; last living in Liberal, Missouri. They then returned to Girard where they owned and operated the Marshall Farm Store.
Betty was a member of the Farlington United Methodist Church; she participated in several activities of the church.
Survivors include four sons; Steve Marshall and wife Linda of Girard, Don Marshall and his wife Kay of Pittsburg, Jerry Marshall and his wife Peggy of Girard, Larry Marshall and his fiancé Lorrie of Thayer, one daughter; Marilynn Limpus and her husband Denny of Harrisonville, Missouri, ten grandchildren and twenty eight great-grandchildren.
In addition to her husband, Betty was preceded in death by five brothers; Carl Jarvis, Fred Jarvis, Howard Jarvis, Earl Jarvis, Dale Jarvis, and one sister; Martha Beasley.
Service for Betty M. Marshall will be 10:30 a.m., Friday, March 2, at the Farlington Cemetery with Rev. Dallas Peterson officiating. Friends are invited to call at the funeral home after 2:00 p.m. Thursday.
In lieu of flowers, memorials are suggested to the Farlington United Methodist Church or the Alzheimer's Association and these may be left at the funeral home or mailed to the Smith-Carson-Wall Funeral Home, 518 W. St. John P.O. Box 258, Girard, and Kansas 66743.
Condolences may be sent to www.wallfuneralservices.com