Coomes vying for Kansas Senate
By Doug Graham
doug@hometowngirard.com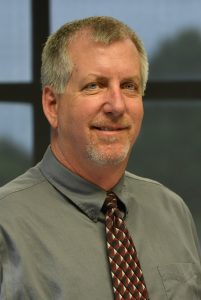 Improving the standard of living, completing the four-lane expansion of U.S. 69, and ensuring schools have what they need to provide a quality education—these are the issues Girard native and Heartland Rural Electric Cooperative CEO Dale Coomes says he wants to tackle if chosen as the next state Senator representing the 13th district.
Coomes said he intends to retire from Heartland this year,
and was planning post-retirement life when word of the vacant Senate seat reached his office. Coomes said he has some political experience working with legislators to ensure cooperative members' electric rates stay as low as possible.
"Being the CEO of Heartland here, with our cooperative form of business, I've been serving southeast Kansas for the last 27 years—taking care of our members and their best interests," Coomes said. "And when I looked at retirement, one of my concerns was … what am I going to do in retirement to serve?"
The 13th district seat was previously held by Jake LaTurner (R-Pittsburg). Mike Pompeo, who had represented Kansas' 4th District in the U.S. House of Representatives, was confirmed as director of the Central Intelligence Agency in January; Kansas Treasurer Ron Estes won a special election to become Pompeo's successor at the House of Representatives on April 11; and LaTurner was appointed state treasurer by Gov. Sam Brownback on April 18.
Republican precinct committee persons will choose LaTurner's replacement 2 p.m. Sunday, April 30, at the Homer Cole Community Center in Pittsburg. While the public can attend the event, only precinct committee members can ask questions and vote.
Republicans interested in the senate seat must be nominated by a precinct committee person. The winner of Sunday's vote will serve through 2018, at which point they will face a special election to face off against challengers from other parties.
Each will be given a short time to make their case before the vote.
"I'm optimistic," Coomes said. "I've had the opportunity to visit with a lot of people in this short period of time, to tell them who I am and why I'm running, and I'm encouraged by the response I've gotten."
LaTurner's replacement will join the Senate at a turbulent time. Following tax cuts pushed by Brownback and passed by the Legislature in 2012, the state's deficit has steadily grown, and is projected to reach more than a billion dollars by June 2019.
In February, the state Senate narrowly failed to override Brownback's veto on a bill that would have rolled back many of the governor's signature tax cuts, including complete income tax exemptions for LLC and S-Corp owners. Brownback and allies say these tax cuts have boosted the economy, while critics say they have merely encouraged business-owners to reorganize to avoid paying taxes.
"We're in a bad position, and we've got to address the deficit that we have for our budget," Coomes said. "We should always be looking at ways to cut our expenses and become more efficient and effective, but I think everybody is of the opinion that there's going to be some kind of relief for the situation in the form of an increase in taxes. The overriding issue is taxes have got to be fair for all Kansans—not just business."
For more on the Senate race, stay tuned to Hometown Girard.