City of Girard statement on Assistant Police Chief firing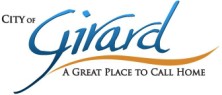 SUBMITTED TO HOMETOWN GIRARD
On December 26th, the Girard City Council voted unanimously to terminate the
employment of Assistant Chief Todd Melton, effective immediately.
In order to protect the City and to honor the personal privacy rights of all
employees, the City does not disclose details of the circumstances related
to personnel matters.
The vacancy created by the termination of Mr. Melton's employment will be
addressed at the next scheduled meeting of the Girard City Council.
Johanna O. Winter, MPA
City Administrator
City of Girard